Posts tagged Discovering Sourdough
Times running out to get your copy of my four volume book, "Discovering Sourdough," for the lowest price ever offered.
Edited:
The winners for this contest are Susan, Tom Chism and Jim Berg. Check your post below for directions. The book review winner is Mark who posted "A happy sourdough baker" on the Amazon book reviews. Congratulations to the winners. Be sure to let me know which file format you desire and send an email to : northwestsourdough@gmail.com so I have your email address. I usually have to send the files in two or more emails.
Yesterday my book, "Discovering Sourdough" was launched on Amazon as a Kindle version. See here: Discovering Sourdough
So I have decided to have a giveaway contest.
Continue reading "Discovering Sourdough" launched for Kindle – Contest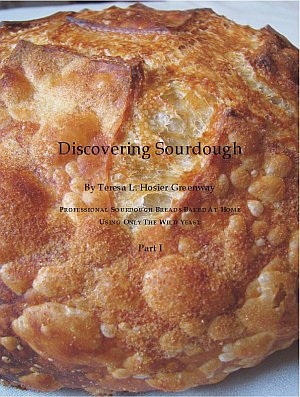 The book I have promised you for some time is now finished and available from my website at:  http://www.northwestsourdough.com
I divided it into three separate .pdf files because it is a very large book. If you want to print it, it is best done on a printer that duplexes or you will have a VERY large book.
Continue reading New Sourdough Book, "Discovering Sourdough" is Released
In many parts of the world, a very sour sourdough is considered a fault in the bread baking. However, here in the USA, it is usually considered a virtue.  At the sourdough forum, we are having fun with a new board set up just for experimenting with "getting the sour" in sourdough. Anyone can join, you just have to ask for a password. The password will be removed when my book, "Discovering Sourdough" is posted. That is because the formula is part of the book, kind of like a preview. Continue reading Getting the Sour in Sourdough – Salt Fermentation