Posts tagged sourdough baking
Times running out to get your copy of my four volume book, "Discovering Sourdough," for the lowest price ever offered.
Hello everyone! As the new year draws to a close and a brand new year is just about to begin, I've decided to reopen my blog and continue on with my newest book, "100% Sourdough."
The last several years have been devastating for me. I fled an abusive marriage which lasted 30 years. I thought things would get better and in some ways they did, but leaving an abusive person is the most difficult thing anyone can do (well in my opinion).
Continue reading Reopening my Blog – So Grateful to All of You.
For World Bread Day today, I decided to bake up some Ciabatta. I had completely forgotten it was WBD until I saw postings on FaceBook and I thought I had better do something quick. Well, quick doesn't work too well for sourdough… Continue reading Flaxseed Ciabatta – for World Baking Day 2012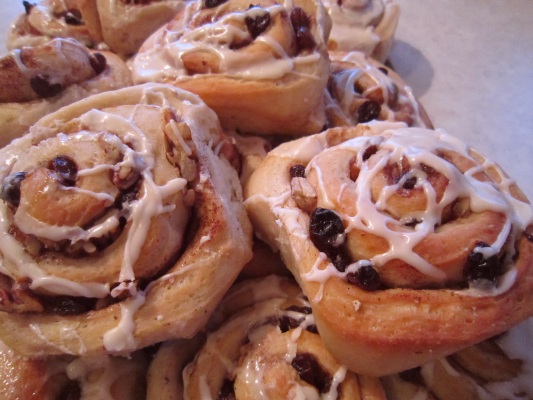 San Juan Island area is a beautiful place to live. The locals are very friendly, it has been fun to meet new people. I attended a transportation meeting to see about road safety and bike trails. I joined a prayer group from the church I attend and I was able to help out at the local soup kitchen this week and bring some of my bread.
.
Continue reading Cinnamon Rolls, Pita Pockets, Pizza dough, Soft White Bread, Rolls….
Those of you who like to bake without thinking about what's behind it… might want to skip this post….
This is a follow up experiment to the post Experiments with Autolyse #1  (length of autolyse)
To autolyse means to give your dough a rest period after mixing and before adding the salt to the dough. Professor Raymond Calvel pioneered this dough development stage which helped produce superior bread. When the flour and water are combined, the gluten strands are hydrated and begin to bond. Enzymes are activated and they begin their work on the dough. One of the enzymes called Protease when activated, starts to break down or digest the gluten strands.  You might think this would ruin your gluten network that you are trying to build up, but used properly on the right kind of dough using the right flour, you can direct the outcome of the bread in different ways.
The credit for this bread goes to a man dear to my heart. He does not know lime is one of my favorite flavors.  He came up with the idea the weekend we met and we worked on it together, so it will be a favorite of mine from now on. It is unusual and quite delicious.
.