Whitley's Pancakes (Cream Cakes)
Okay so I did something amazing this morning. I made up a formula for pancakes that will be my go to formula from now on. My son asked me to name them after him and my daughter, who won't eat pancakes, helped herself to a full plate after tasting a bite. She said, "How did you make these taste so good?"
They are amazing and I challenge you to try them. Don't change or substitute any ingredients and come back and tell me what you think and what your family said about them. They look plain enough, there is nothing remarkable in them, but they are pretty awesome!
Whitley's Pancakes
In a medium large mixing bowl mix together with a whip:
200 g of 100% starter refreshed the night before
175 g of half cream and half milk or in the US we call it half and half (you can also use all cream)
65 g of melted butter
100 g eggs (about two large eggs)
7 g salt
40 g dark brown sugar
In a smaller mixing bowl combine:
150 g all purpose flour

5 g baking soda (1 teaspoon)
4 g baking powder (1 teaspoon)
Add the dry ingredients to the bowl of wet ingredients that you have already whipped. Stir together just until combined. Don't overbeat after adding the flour mixture or the pancakes will be tough.
Heat your temperature controlled skillet or grill to about 400F (adjust temperature if the pancakes get dark too fast or take too long to brown). Spray with pan spray and griddle them on one side until they are bubbly, flip them over and brown the other side. Serve immediately with fresh butter and syrup to oo's and ahh's and "Please give me some more."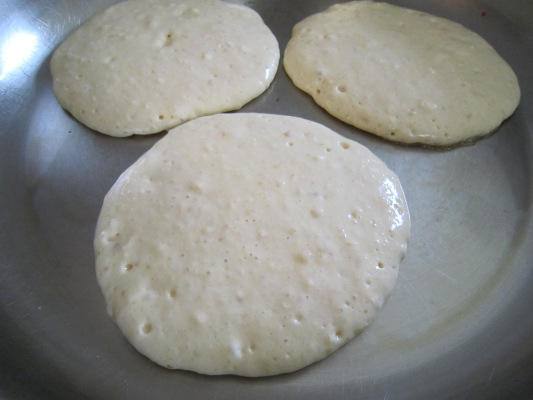 They taste amazing and are fluffy on the inside, slightly sweet, buttery and nutty flavored(the brown sugar). The batter is just a bit thick and will make about nine 4- 5″ pancakes.
Enjoy!