Friday the 13th Knockout!
Heck, I don't know what I'm saying… knockout? But I knocked a ball out of the park with my first book signing for my memoir, "Reach for Joy" last night (people in the audience were crying as I read excerpts). I can't give you a special price on my memoir because the publisher controls that (there will be a free e-book download available Nov 26, 27 and 28th), but I can give you a special price on my books and courses. So for this weekend my four volume book, "Discovering Sourdough" is on sale for 13.00.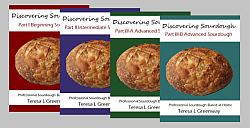 And all of my courses are on sale for 13.00 dollars each.  Click on the link for each one below to purchase.
You don't have to come back here for the link each time. Once you find my courses, the coupon code is: Friday13
Happy Baking Everyone!
Teresa