Gratitude Celebration – Happy New Year! (Pssst…Link Treasure!)
I have so much to be grateful for as the old year passes into the new. I am grateful that I did not cut off the end of my own finger over the holidays because I came close to doing just that with a really sharp knife and a shiny (slippery) crunchy crust of sourdough.
I am grateful for family, friends and supporters for helping me to go from surviving to thriving this past year. Udemy gave me a great boost when they did two interviews, (instructor spotlight and corporate spotlight by Alexandra Kenin) and then selected me as one of the top ten instructors for the year!!!… an honor that I never even imagined I would be given. Thank you Udemy! 
I did several interviews last year (saying last year seems like so long ago!) including :
Marc Isaacson: https://www.youtube.com/watch?v=hGi9MnVI3Yo
Barrett Clemmensen Powell: http://www.blogtalkradio.com/barrett/2015/04/22/live-with-barrett-a-delicious-conversation-with-baker-teresa-l-greenway
Sherold Barr: https://www.youtube.com/watch?v=mKSA290z0XA   (I can't believe my wild hairdo!)
Pam Brossman: https://blab.im/pam-brossman-udemy-profits-for-women-how-to-make-money-market-your-expertise-on-udemy-1
Nick Walter: http://www.teachtoamillion.com/136
Passive Income: https://blab.im/dave-espino-passive-income-show-teresa-greenway-making-1000s-w-sourdough-bread-courses
Two of the instructors did courses and I was invited to be featured in their courses:
Marc Isaacson:https://www.udemy.com/inspiration-for-success (Free course).
Rose Suen: https://www.udemy.com/transform-udemy-to-a-full-time-business-teaching-online/?couponCode=15TeresaGift  (special discount code just for you from Rose).
The amazing Barbara Elisi Caracciolo featured several other women bakers in the online magazine called Bread: https://bread-magazine.com/issue/issue-18/ of which I was lucky to be one along with one of my festive bread formulas.
An interview I did with Woman's World magazine is hitting the news stands on March 10th, 2016. (Interview was cut last minute)
Interview with Chris Haroun for Inc.com magazine: How a Baker Revolutionized Her Business by Working From Home.
Blab with Matt Bernstein and Dennis Smith: Rolling in the Dough
I developed five sourdough baking courses this year on Udemy's learning platform:
.
# 1 Sourdough Bread Baking 101
# 2 Bake Real Artisan Sourdough Bread Like a Professional~A
# 3 Bake Classic Sourdough Breads Like a Professional ~ B 
#4 Old Fashioned Sourdough – Delicious Quick Breads
.
And I published my memoir: http://www.reach4joy.com (under a pseudonym):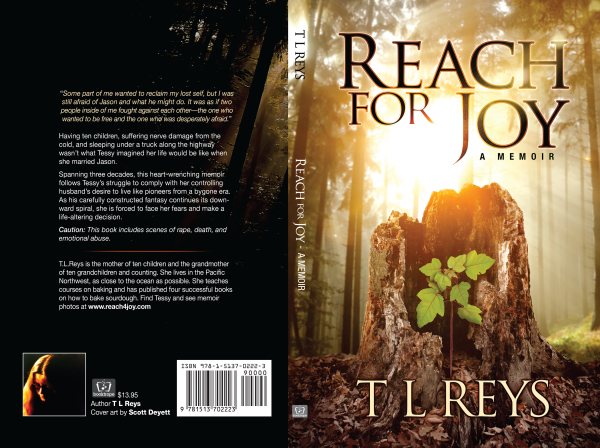 .
Like I said, I went from surviving to thriving, life is good, and I have all of you to thank, I am grateful! My goal for this year is to fulfill my dream of moving into a real home! 
PS Ten of the links scattered throughout this post (some hard to find) are FREE links to my sourdough courses. If the links are all used up, go on over to Udemy, they are doing a 10.00 special on all of their courses until Jan 11th- you won't be disappointed. 
Please leave a comment on something wonderful that happened to you last year and a hope you have for this year.
.
I wish you all every success,