New Course Launch – More Fun With Sourdough Bread Baking
Hello everyone! I've finally finished my #10th online sourdough bread baking course which is called, "More Fun With Sourdough Bread Baking." It took me 10 months! I had several obstacles this past year which made it difficult to finish the course. I moved. Yay, I moved! It's wonderful being in my new place but moving is also stressful and most of all, you can't find ANYTHING! 🙂
This is the downstairs garage "kitchen" where I used to live:
It was so hard to film and make the first courses there. But I did my best 🙂 And you have all been so good about it.
This was the kitchen of the new house I moved into at the end of last year:
Can you imagine me trying to film on that orange counter top? 🙂
My new kitchen had 80's orange counter tops and older worn flooring so before I could finish filming I had to do a kitchen remodel, which took several months. The oven in my new home was broken when I arrived ( I did purchase a fixer-upper house) so I sent for a new Bosch oven, which broke after only three months (still waiting for it to be serviced). Thank goodness I got a double oven, as I was still able to continue filming.
This is my new kitchen:
Then my camera broke!
That happened just two months ago, so it was very hard to continue. I used my smart phone but didn't have the setup to use it right (no phone tripods). The camera broke during the Miche filming right when I was supposed to video myself slicing into the bread. So I had to wait until the following day when my daughter could hold my phone and film me doing the slicing (the bread was soft by then). I had the seeded bread from the course ready to bake and no camera. So I just took photos and had my daughter help sometimes with the phone video. It came out pretty nice I think.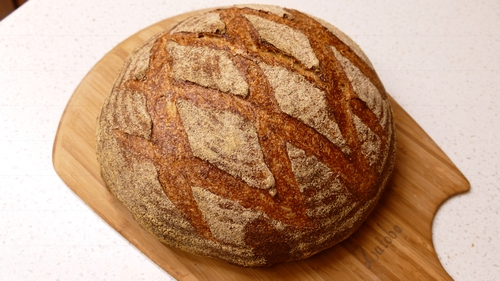 So it is with great gratitude that I write this post. You have been with me on my journey to success after having struggled to support myself and my two remaining children. I wrote my memoir "Reach for Joy" which tells about my 30 year journey to get to this point in my life.
So here it is: "More Fun With Sourdough Bread Baking"  this will give you launch access for only $10.00.
This is not only my tenth course but you will see that in some of the videos I am still in my old garage kitchen and in some of the videos, I am in my new kitchen. The last formula, "Beetroot Bread," is actually shot in the new style with both my hands and face (wow!) showing and in my new kitchen.
Here are a few photos from the ten new formulas in this new online baking course:
Welcome to: "More Fun With Sourdough Bread Baking" 
Happy Baking Everyone!
Teresa